Is the cloud a blessing or a curse?
While many organizations have reaped numerous gains from shifting to Infrastructure-, Platform-, and Software-as-a-Service, the security risks of cloud computing make us wonder whether the cloud is a blessing or a curse.
What is cloud computing?
Cloud computing is the delivery of services hosted over the internet paid on a per use basis. Whereas the traditional route involved the use of local hard drives to store data and run programs, cloud computing uses the internet to access remote servers and processors. A popular example is Dropbox, which offers cloud file storage that can be accessed from any device through the internet.
Cloud as a blessing
Mobility is the name of the game when it comes to using cloud services. Gone are the days when work meant being trapped in an office. Cloud services have given rise to virtual work environments where teams can share files, chat, and easily collaborate on the same document.
Employees can now work anytime, anywhere, even at the beach! Just as long as there's an internet connection, of course. Not only that, they can even use any internet-connected device. This means that they can still pick up on work even on their mobile devices, thereby boosting productivity.
Cloud computing's pay per subscription model also provides organizations the flexibility to scale up or down its IT infrastructure to quickly respond to ever-changing needs without having to invest in and maintain its own servers, cutting down costs significantly. This is especially beneficial to small- and medium-sized businesses (SMBs) with tight budgets.
Cloud as a curse
As more and more organizations shift to cloud computing, their and their customer's data are exposed more than ever. There is a steady increase in the amount of sensitive information being uploaded to the cloud. This includes data such as intellectual property and customer and personal data. Even worse, some of them are shared with an open, publicly accessible link.
Consequently, cybercriminals are putting greater focus on the cloud. Threat events such as compromised accounts, privileged users, or insider threats have increased at an alarming rate. There is now a greater risk of an immediate and grand-scale loss of data, examples of which are breaches of credit card information and user login information. Just this January, Collection #1 showed that more than 770 million unique email address and password combinations have been leaked onto hacker forums.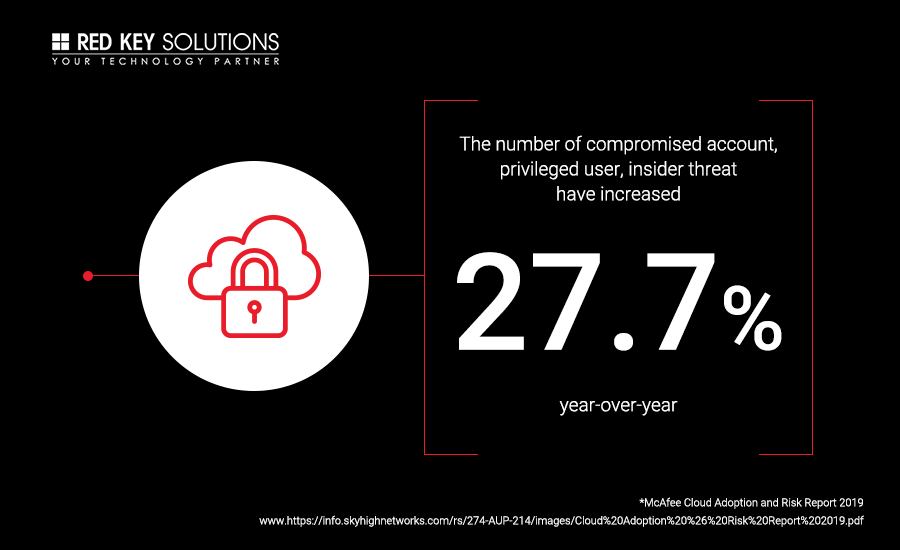 Though cloud adoption comes with security risks, its competitive advantages far outweigh them. These risks can be mitigated by relying only on cloud providers proven to deliver enterprise-level security such as Red Key Solutions. We have been providing managed IT services such as cloud computing for more than a decade to SMBs. We can deliver custom-built cloud services to best suit your business' needs while optimizing your budget.
We also provide IT consulting services to ensure that your organization adopts best practices to ensure the security of your data. When managed correctly, the cloud can actually provide your organization with the most secure environment. Drop us a line today to get a proposal.