Red Key Solutions Featured in Clutch's Research of IT Services & Consulting Firms
At Red Key Solutions, we understand the problems that can arise when technology fails us. That's why we're here to provide IT support at New York speeds so that you can focus on your business. Founded in 2002 in Westchester County, we are an experienced firm that has been providing IT strategy solutions and consulting for more than a decade in the New York area. In our efforts to expand our services to new clientele, we are excited to announce our inclusion on Clutch.
Clutch is a B2B ratings and reviews site in the business of connecting buyers with the services they need to grow and accomplish their goals. Our feature on Clutch as a leading agency reflects the strength of our company as Clutch takes into consideration customer satisfaction, brand reputation, and value of service as an indication of their ability to deliver results for their clients. Clutch also conducts in-depth interviews with the clients of the companies featured on their site to truly understand which agencies are more experienced and more qualified than the rest.
We are very proud to be named among the top IT companies in New York, an honor that represents the commitment we have made to providing excellent service to our clients over the years. Our ability to provide outstanding long-term IT solutions, cloud services, and general IT network management granted us a spot on this list, and we look forward to growing our relationship with Clutch even further moving forward as it is a valuable tool for gaining more organic leads.
Here is an excerpt of an in-depth review we've collected on our Clutch profile (click for enlarged picture):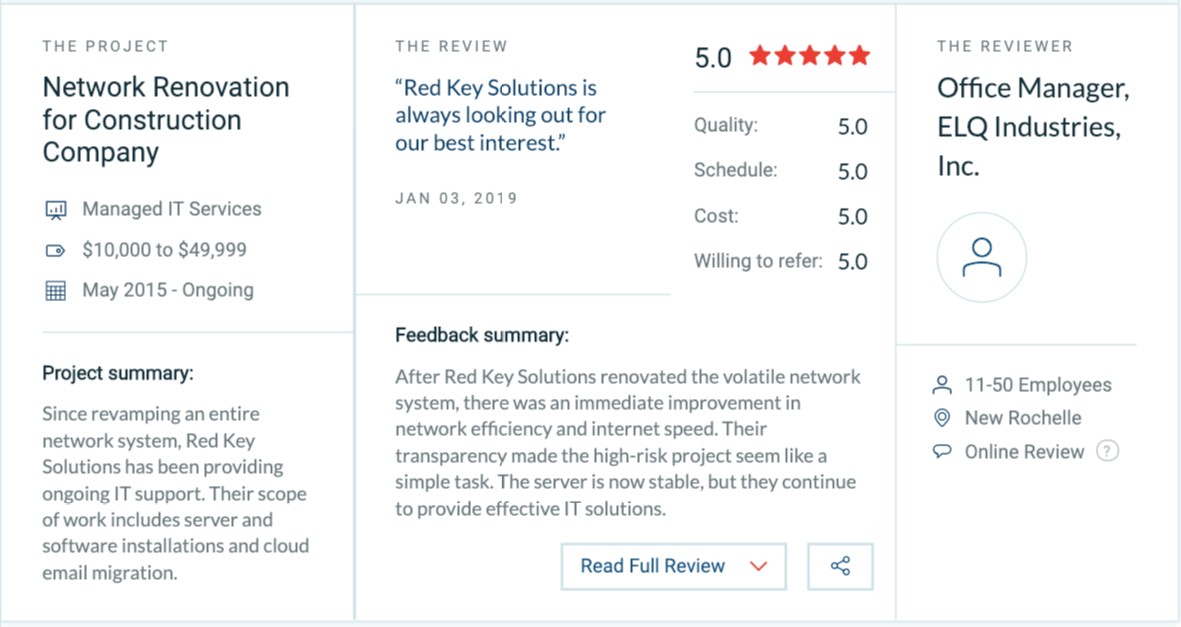 In addition to our feature on Clutch, we are thrilled to be named on their sister site, The Manifest, one of the top IT services companies in the world. We find this placement to be very valuable as The Manifest is a leading platform that helps firms navigate the buyer's journey, offering data-driven research reports, how-to guides and curated lists of the best agencies for buyers to consider when selecting a business partner.
Overall, we are excited to increase our involvement with Clutch and their sister companies because we believe in the value that these companies can provide for our online presence and brand strength. Be sure to reach out to us today to learn more about how we can provide exceptional IT service and solutions to help your team get closer to its goals.